2019 Organisational Structure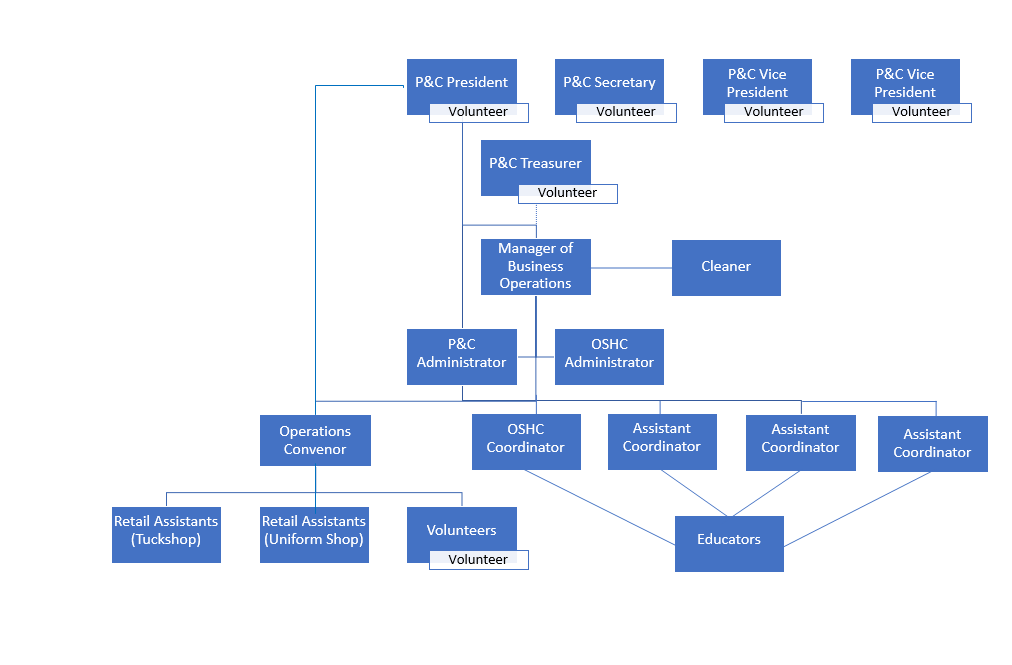 President's Welcome
Hello and welcome to Eatons Hill State School.
I thought this would be a good opportunity to let you know who the P&C is here at Eatons Hill State School:
We are parents, grandparents, caregivers, and community minded people. We are always keen to see new members – it's not scary, does not demand any commitment and is the best way to keep informed. Just fill out the enclosed form.
We aim to promote the best interests of the school.
We manage one of the largest P&C Operations in Queensland covering:

Outside Hours School Care with 255 places
Healthy Tuckshop
Uniform Shop
Facility Hire and Community Events
We commit to returning all profits (around $400k p.a.) to the school community. In the past few years, we have funded

The oval transformation
New prep playground
Rainforest mural
Outdoor learning area (Sandstone Place)
Senior adventure playground
Tuckshop renovation
STEAM room
Hall air conditioning
Covered walkways
And much, much more!
Eatons Hill SS is a big school, and the P&C operations are large. Just this year, our volunteers have already organised four events, with another planned later this month:
In March, we held our postponed Movie Night where hundreds of families enjoyed an obstacle course, face painting and of course a screening of Peter Rabbit 2.
In May, our students enjoyed the opportunity to buy a small gift for Mum at our annual Mother's Day Stall.
In August, we were excited to welcome back our Carnival, which has been in lockdown since 2019.
In September, the EHSS children were given the opportunity to buy a small gift at our annual Father's Day Stall.
On the 29th of October we will be hosting a Halloween Dance for the students, with younger students in the afternoon and older students in the evening.
As you can see, we are a very active community-based P&C with lots of opportunity to get involved. We invite you to attend our P&C meetings and get involved in the community events we hold.
All the best,
Nicholas Whitlock (President)